One of the easiest methods, of course, is the treatment of the water that you use on plants. It is evident that plants prefer living water, i.e., water that is saturated with orgone energy. You can achieve still better effects with water that is also programmed towards certain desired results such as resistance against specific diseases or pests or magickal properties, which the herb does not have by itself.
Naturally, a week or two of using water that has been saturated with life force on your house plants can give you the evidence that you wanted!
Besides charging the water with life force, you can charge the fertilizers as well. In addition to this, you can apply life force directly to the plants in question. Methods used for this purpose vary depending on the equipment that you use and the size of the area treated.
The ideal device used for house plants, gardens, small greenhouses and lawn care is AO 2000. Ideal is a radionics device, especially when it is specifically designed for water optimizing. Both the RAD 5 and the ATG 12 have this characteristic. Furthermore, you can use the ATG 12 for astrological planting and putting astrological information into the plant water and seeds, especially when maximizing the "magical" effects of herbs and when working on very large areas. To enhance the astrological energy fields for any area, large or small, use the Manifestation Ultimate Pro - for PC or Mac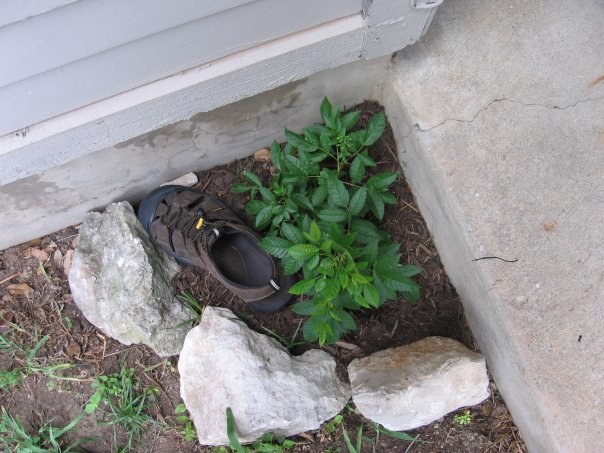 Plant grown without orgone water
Plant grown with orgone water - same time !!!
Below you can see an example of how you can set up the Super Manifestation Program with the Astrology circle. A setup like this allows you to get the ideal astrological background energies to attach specific characteristics (properties) to herbs, plants, etc. Naturally, you can do the same thing (a bit less flexibility than the Super Manifestation Program) when using the astrology cards with the house disk, put the AOPTC (Aqua Optimizer Power Transfer Couple - in the picture above with a glass of water) in the center and charge water for plants, magickal herbs, etc., with the corresponding astrological energies.