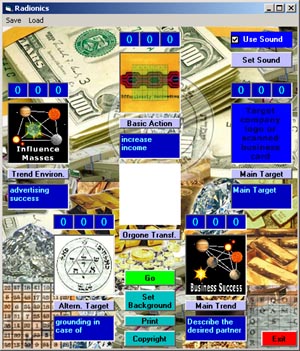 Marketing and advertising are important parts of any successful business. Without proper marketing, no business.
The uses of the Chi Generators® and Power Radionics™ Programs in combination with magickal methods for marketing purposes are as varied as the businesses for which they are used.
For instance you can energize store counters with ease, provided that you have a sufficiently strong device. Simply put a transfer at the part of the counter where the customers are when paying, one transfer every 2 feet. The strong device is needed, because the customer is in front of the counter only for a short time, and at times there are more customers to energize than just one. When the customer feels the positive energy of life force while leaning on the counter and feels good about this energy rush, his subconscious most likely will want this experience and rush of beneficial energy again ... and he or she subconsciously connects it with the store and therefore is coming back, not exactly realizing why they are attracted to your store.
In a similar way, you can transfer beneficial chi energy to the chairs of waiting rooms, to massage tables and the like, and likewise you can also power boost your ad copy in magazines and newspapers, which is extremely effective in getting your messages across to the right people.
Naturally, the magickal orgone and radionics equipment can be used very well to boost marketing skills in general, to cause people like a specific business or the owner and employees of a business, to boost charisma, popularity and ease of talking.
Excellent devices for massive use in business situations are the LPOG 2400 HD , the RAD 5 (see below) or then ATG 12 in combination with the Super Manifestation™ Program.