| | |
| --- | --- |
| | Now - what do you think is action at a distance as well as perception at a distance, which most people refer to as "magick?" Is it spiritual? is it metaphysical? is it religion? is it rooted in faith? is it "higher esoteric knowledge?" Is it something, for which to master you need to be a life long slave of some secret lodge, sacred coven or other cult setup? ... or does it have to do with these very nice modern fairy tales of Harry Potter or the Lord of the Rings? Quite naturally, as is the case in such fairy tales and mythologies as well as in those "modern" eso-stuff, the assumption persists that only a few "gifted" people are capable of performing these skills, while all others have to accept and live by the rules of their enslavement: In other words: all of them are caught forever within the mechanisms of socio-economic-sexual repression. I am going to show you that this is not the case and that there is absolutely no need for you to accept those "rules" and to allow being controlled by them. In fact, we can show you that with the help of Orgone Generators® you can re-achieve those skills even more rapidly. With the FREE test, you can get the evidence you always wanted by now! |
Phone: 770 783 0563
Catalog
Text and See
email
Call us on Skype and we are going to show you the orgone-generators® and accessories and explain to you a lot more about this exciting science-based technology. Our Skype address: chi.tec

In fact, what many refer to as "magick," such as perception at a distance and action at a distance are many skills, which are as natural as walking, seeing, hearing and talking, and therefore almost all of us have these skill naturally: we were born with these skills, and therefore they are our birth-right !!! The problem is that because of vested interests of ruthless folks in power, humans always have been systematically "educated out of it," - brainwashed out of it ... and that usually happens already at a very early age, of course! In fact, because it is a natural skill of all of us, this skill of humans is extremely easy to master, i.e., to re-acquire. You can do so in a few weeks rather than in many months, years or decades, as many cults (many of them too are created by victims of massive brainwashing) try to make you believe.
Here you are going to find out very rapidly that advanced and effective magick is technology, plain and simple, and that this technology is based on the science - or physics - of life force, the energy of life: call it Chi, prana, orgone, od, mana, or whatever other label you want to use for this universal energy! As is the case with any technology, any person willing to do so can have access to it. In fact, you will find out rapidly that it is extremely easy for you to set up powerful magickal operations, which can be a decisive help in achieving manifestation of your deepest desires, especially when you are working with orgone-generators®!!!


Click Here for the FREE test and almost immediately you can get this exciting first evidence of what you just found out, and, what's still much more important,
this is experience for you, plain and simple: it is direct experience, which is worth more than a thousand words !!!

Because magick is extremely easy to master (i.e., to reacquire the skills with which you have been born - which, in fact, are your birth-right) and at the same time it has been used to control large portions of the population throughout history, there have been very strong vested interests by those folks in power: by people who shamelessly were and still are using it for their own purposes of dominance and control, and quite naturally they invented and still invent idiotic lies about magick, they label it evil, etc., and consequently we have been "educated out of this" and in many "cultures" the word "magick" itself has been vilified throughout the ages by control-freaks in power, and this vilification appears in almost all of these fairy-tales, including doomsday fairy tales, which were hammered into us by way of forced-upon education - call it brainwashing. All of this quite naturally is the result of the power of folks and groups of people who have vested interests in keeping this knowledge away from the bulk of the population while using it extensively and shamelessly for their own purposes: purposes which are unethical most of the time ... or, as they attempt to make you believe quite often and routinely ...
"we are doing this for the greatest benefit of all human beings, you included , etB.S., etB.S., ..." !!!

After all: you know by now that any shepherd wants as many obeying sheep as possible !!!

Result of this approach by control-freaks in power? .... See above, at the beginning of this web site ... !!!

I am certain that by now you actually want evidence, and YES, you can get this experience and you can get it now !!! Perform the FREE transfer test, and you can do this as well when putting a structural link as a wallpaper onto your smartphone. Simply go into www.chitec.us for a FREE TEST! - read some of the instructions, and you certainly will realize rapidly how easy it is for you to perform this exciting technology of action at a distance and perception at a distance having your smartphone as the center of your "magickal" power: This is so, because the structural link, i.e. the wallpaper on your smartphone, provides you with life force, which is the energy at the basis of your work towards a better life, and this is so, because your wallpaper is connected to chi generators® in our laboratories !!!

To perform the FREE test without using your smartphone, simply click here and for you this experience of results will be worth more than a thousand words !!!

Catalog of Orgone-Generators®: Equipment to help you re-gain the skills, which are your birth-right and to achieve positive permanent change !!!

... and there are a few thoughts, which I added December 28, 2015

What is Magick?

Is it a collection of spiritual skills on a basis of one or more of the many quite different religious mythologies?

Or is it a potential beginning of or a gate to brand new technologies on a basis of a scientific understanding of life force and structural links, or can it even be a combination of both sometimes?

After all, collective placebo effects certainly can end up being useful objective realities. Many events in history are proof of this.

When talking about "magick" most people are thinking of it as something esoteric, spiritual, religious and the like, and they are unaware that, in fact, magick is technology, which is based on science: the science of energies in general and the science of life force and its interaction with other energies (such as EMF/space, time, gravity, etc.) in particular: at the beginning there evolved the science of action at a distance and perception at a distance and later many other technologies, which evolved from this approach. For more visit www.magicofthefuture.com

In fact, in "olden times" thunder and lightening too were considered being "spiritual" and miraculously produced by "gods of thunder" and so were lots of other things, which later were recognized as very natural phenomena and explained by scientific approaches, and based on such scientific mappings, theories or approaches, many new technologies could evolve, some of which we enjoy very much, and of which the people of the past who originally had started the scientific approach had not the slightest idea. In fact, such a type of scientific and technical evolution based on the science of life force happened almost immediately after I could explain scientifically magick and many other functions and experiences, which up to now were - and still are - explained by most people as "divine, spiritual, esoteric, new agey" and what not.

In fact, after having recognized the many phenomena and approaches of life force as applied science that uses natural energies, almost immediately amazing new methods could be developed. Of course this is something that the many popes of esoteric approaches do not like at all and they may even condemn it as "of the devil" and the like! After all, those folks make pretty good money based on their rigid spiritual explanations. The same things happened in the past at the beginning of a scientific understanding of electromagnetism and the like: think of thunder and lightening - and the understanding and technology of electricity came in part from this basis, as did later a lot of electric machineries, all the way to computers, space travel and more.

And now just imagine how far technologies can go as a result of understanding many of those "esoteric functions" of life force, such as, but not limited to, perception at a distance and action at a distance, and from there is just a small step to texting with no need of network or amplifiers, to gravity machines, to teleportals, not just for travelling by way of teleportals, but also to pull "free energy" from powerful sources such as the Sun or drawing minerals (such as "gold") directly from asteroids, with no need to physically go there, ... and much much more! These were just a few rather primitive examples of what we can expect, and I am certain there's stuff out there that I cannot even think about yet: similar as people who in the past started building electric and other power machinery based on scientific understanding could not even think about computers back then, about fun with computer games, about refrigerators, about nuclear energies, about TV and other methods based on this EMF knowledge: technologies and machinery used in our times, some of those already sort of antiquated.

I consider my scientific approaches still primitive and I hope they will be obsolete some time: the sooner the better, because this mechanism of "obsoletizing" in fact is the engine of technological and scientific progress!

For first approaches, personal ones, being aware of all of this is sufficient.

Start with known methods and you can be aware almost immediately that all of this is technology. Then very soon you can proceed to much more advanced methods and technologies than many of the "eso-popes" or "spiritual leaders and guides" want you to know and believe in!
A Gigantic Step into the Future !!!
Wilhelm Reich and Franz Anton Mesmer 150 years before Reich invented accumulators of life force, which draw life force from their surroundings. Reich called life force orgone energy, and Mesmer used the word "animal magnetism" for life force.
In 1991, I invented the Orgone Generator®, or Chi Generator®, and this is a device, which actually generates life force rather than just accumulating it, and this naturally was a first in human history! One year later, in 1992, I invented a new material that attracts and accumulates life force, and I called this material orgonite®. In fact, orgonite® is exceedingly more effective than the Reichian alternating layers of organic and metallic material in orgone accumulators.
These inventions certainly marked the beginning of a new era in magickal technology as well as in human history, and this is so, because there is no technology of humankind, where this life force technology cannot make a significant improvement and advancement.
Therefore: WELCOME TO this exciting new technology, which can mean for you the difference between average results and SUCCESS ON ALL LEVELS !!!
This web site delivers extremely powerful applications of a new method of orgone-energy based magickal technology and science.
This certainly is exciting news for all who are practicing magick of any kind, including traditional methods (ceremonial magick, voodoo, shamanism, wicca, santeria, religion-based methods, etc.) as well as more recent methods that are inherently magickal, such as radionics, motivational techniques, self improvement, vision boards, "the secret," affirmations, "law of attraction," and Silva mind control.
You can also safely call this extremely powerful new technology your ultimate unfair advantage! "Unfair," because spiritual training, cult membership and intitation become unnecessary, as far as success of your magickal operations is concerned.
This new technology certainly is extraordinary, because it opens up for you a whole new world of powers for you, powers which will leave you entranced, enlightened, and empowered. You will actually be equipped with what is certainly the most powerful technology of effective "magickal" impact, i.e., impact of your Actions at a Distance !!!
For you, this can well be the first time that learning about a technology will not only be useful, it will be used. It will be a natural step in the right direction of the success that you were striving to achieve all along. In the following, you will find an amazingly powerful new technology to boost your magickal performance, or action at a distance, to the max. It is here that you can probe the deepest secrets, which make possible and maximize the success of your journey to the top.
I am going to lay out and explain this exciting new technology for you so that you can gain immediate evidence, from where you can proceed step by step to an increasingly deeper grasp of its far reaching new magickal applications!
Here you can find an easy and very effective way to help you improve all your results for the future. It is specifically designed to provide you with powerful methods to enhance your performance in all areas of your life, especially those that you feel need to be strengthened. Whatever the line of your work or field of endeavor is, be it business, politics, high performance sports, education, volunteering, spiritual matters, or anything else, this highly effective magickal equipment from HSCTI is designed for a great many uses, while leading you towards successful outcome whenever you use it appropriately. Now you certainly can take your destiny into the best possible hands: your own!
Understanding Magick as Action at a Distance in time and space
Click Here to see my video so that you can understand better the action at a distance
The purpose of Magick is to help you in all your activities to acquire the good things in life: power, wisdom, knowledge, success in business and personal relations, peace of mind, and many more.
I am going to show you here that the use of magick for your success is much easier than you ever have been conditioned in the past to think about and believe. It is an easy to understand technology, which is accessible to every person who has the will and the open mind to do so. Furthermore, I am going to show you that the technology of magick makes use of life force (chi energy, orgone, prana) and structural links (structural connections) to generate specific trends, i.e., to generate inclination, motivation and action towards the goals you have. You can generate such trends for yourself as well as for others. I am going to show you here how this works and how you can use this technology to put you on the road towards your overall personal success. See also my free course "Magick of the Future!"
Life Energy and Magick
Click Here and see my video about the importance of life force for magic
First let's explore a few basic facts about life energy and life energy technology
According to Wilhelm Reich, orgone energy (as he called life force) is a primordial cosmic energy. It is universally present and it can be demonstrated visually, thermically, electroscopically and by means of Geiger-Mueller counters. In the living organism: bio-energy, life energy, Chi energy, personal magnetism, prana. Most people can actually feel this energy without previous training.
You can get the evidence of this in our free test: charge water and taste the difference, charge yourself and use the life force for more power of your affirmations, vision boards, magick, and any other method to bring your desires into manifestation.
As far as we can look back in history, humans have been using life force for many purposes. This use of life force was result of practical experience. In fact,
The use of Life Force is a Characteristic of All Living Beings!
It is an obvious fact that a basic characteristic of all living beings (and of life itself) is interaction with the environment. A set of signals (internal or external) pass through various levels of abstraction that eventually lead to some form of action. Typically, a wealth of perceptions are streamlined into fewer abstractions. In humans, this process is generalization. With evolution, the capability of sensory perception increased as did the complexity of abstracion processes and of generalizations.
Some form of life force "technology" can be observed in most animals. A good example are various species of moths and butterflies, which, according to some folks, "smell" the "scent" of a female even when it is miles away. At such huge distances a chemical scent would be thinned out to an extent that there are simply no longer any molecules of the original substance in the small air-samples surrounding the moth. Any high-school kid can calculate that there is virtually no molecule of that scent at a distance of a couple of miles; and yet some "scientists of academia" and elsewhere still prattle about the moth "smelling" the other! Perhaps it would be good for those folks to go back to high school and take a course in elemental math! As you will find out soon, this type "ESP" can be explained with ease as a function based on the structural transfer characteristics of life force.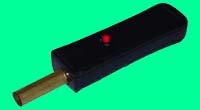 The CEG 1000
is an orgone generator®, built as a shooter, and as such it is ideal for any type of magickal work. For instance, you can point it at your magickal setup of magickal operations - "the magickal altar" as some call it. Boost the power of the CEG 1000 to the max, even to the extreme, by connecting it with two Chi Generators®!
Click here and get additional info about this amazing new machine -
You can also video call us for a demo! In addition to its capability to project life force to persons, animals, etc., to which you point it, the CEG 1000 is also great to optimize water or food at a distance and charging food, beverages or water with magickal properties!

Magick for agriculture, plants, lawns
Magick to boost artistic inspiration
Get rid of unwanted attachments, demonic forces, spells
About magickal attack and how to protect yourself
The PFC 2000
is an orgone generator® (Chi generator®), with which you can set the life force (chi energy, orgone) to precision frequencies of your choice. As you know, specific frequencies are at the basis of well-defined modes of interaction with the environment: from somnambulistic-hypnotic states, deep meditation, all the way to persistence, stamina, precision, aggression in sports, charisma, planetary energies, etc. Check out the frequency list in the manual, which you can find in www.akor.cc. The PFC 2000 is Middle of the Line Power, and it works great in combination with the CEG 1000 or the CEG 2400!Click here and get additional info about this amazing new machine -
You can also video call us for a demo!
break up bad relationships with the help of magick
Magick to enhance business, to generate a productive office atmosphere
Show more charisma, be outgoing with the help of radionics
How to help winning in competitions
defense against magickal attacks
Magick and Radionics have a CFP (Common Functional Principle), and this is "permanentization" of intent or trend energies
The difference is in the type structural link. The Magician uses physical structural links, such as incenses, symbols, hair and finger nails, while the radionics operator uses settings of the dials to establish linkage to trend energies or to targets of the operation. Precise frequency settings (PFC 2000 and 2400, Performer, RAD 5 and ATG 12 too can be understood "radionically."
Click here and get additional info about the "magick of radionics" -
You can also video call us for a demo!
more energy with the help of magick
Magick to help develop esp and psychic skills
The RAD 1000
is an great starter orgone generator® with built-in radionics capability.
Click here and get additional info about this amazing startup orgone radionics machine -
A magickal approach to gambling
herbs, magick and orgone technology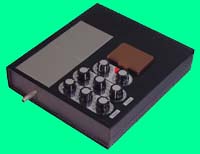 The RAD 2400 HD
is the most popular orgone generator® with radionics capability. It is heavy duty.
Click here and get additional info about this extra powerful chi boosted radionics machine
The Performer
An HD orgone generator®, combining radionics, precision frequencies, affirmation input and a great selection of 12 pre-set frequencies for performance -
It is Super Heavy Duty, twice the power of the RAD 2400 HD!
Click here and get additional info about this extra powerful machine to boost magickal performance on all levels - You can also video call us for a demo!
Use magick to block mind control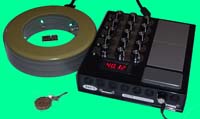 The RAD 5
Very popular top of the line orgone generator®, combining radionics and precision frequencies on five positions, which are ideal for very effective magickal work: Basic action, trend, trend in the environment, target and alternate target. Great for complex spell work as well as protection - and all simultaneously. 2 audio inputs for affirmations.
Click here and get additional info about the RAD 5 and its use for very powerful magickal work on all levels - You can also video call us for a demo!
musical creativity and success with the help of magick
popularity with the help of magick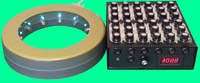 The ATG 12
Top of the line Device with 12 orgone generators® in the ring, ideal to set up any astrological trend energy that you desire. This is the top of the line "astrological greenhouse" in which astrological settings help decisively in achieving the desired outcome of your magickal operations. Also it's excellent for complex spell work on multiple targets as well as protection - and all this you can do simultaneously. 2 audio inputs for affirmations.